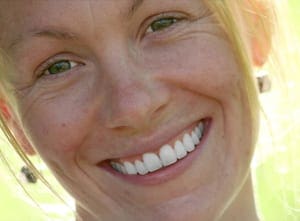 Tooth-colored or composite tooth fillings are a safe and attractive alternative to older silver amalgam fillings. By matching tooth-colored composite fillings with the natural color of your teeth, a dentist is able to provide you with white fillings that blend with the natural look of your teeth. The removal of amalgam fillings can provide patients with a more cosmetically pleasing, "silver-free" smile.
Composite fillings can be used on front and back teeth as well. The esthetics of the composites are excellent whether used in the front or back teeth. Composite fillings are also placed in a different fashion in the tooth as opposed to a silver dental filling. Composite fillings may be large or small depending on whether the decay or previous existing filling was large or small. At times, a composite filling may also be used to strengthen or reinforce weakened tooth structure. If the area is highly weakened, a crown may be needed to strengthen the tooth.
Tooth colored fillings are made of a resin material. Tooth-colored fillings have become more popular over the years due to the more esthetic value of the composite rather than the amalgam/silver fillings. Dr. Miller has been placing the tooth colored/composite fillings for many years as a general dentist service. The look is much more natural than that of a "silver" filling.
Call and set up a time to create a more beautiful smile!
"With a Smile, We're Changing Lives"
Dr. William H. Miller, D.M.D. has been practicing dentistry in Texas since 1985. For over 30 years, he has had a passion for personalized, quality care dentistry. He has been in the DFW area his entire career and is conveniently located on Walnut Hill Lane across from Presbyterian Hospital in North Dallas. His office offers a wide range of dental services that include crowns, bridges, implant services, dentures, root canals, fillings, cosmetic dentistry and other restorative procedures. [more]