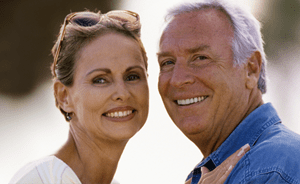 Dentures are used when a patient has no remaining natural teeth.  "Partials" are used when a patient still has some remaining natural teeth.  "False teeth" do not function the same as natural teeth.
Natural teeth are "connected"  to you and dentures are not as they just tend to sit on your gums.
Treatment will involve impressions of your dental arches and/or your remaining natural teeth.  Several steps and appointments are necessary for a set that fit and look proper.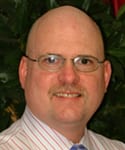 Dr. William H. Miller provides his very best in adult care general dentistry.  He provides examinations and cleanings, restorative dentistry, which would include fillings, crowns, implant crowns, bridges and cosmetic dentistry.  Also, dentures and "full mouth" rehabilitations are offered services by Dr. Miller.  Dr. Miller has the education, experience and caring attitude to provide you his very best care and treatment.
Dr. Miller has had years of experience with partials and denture related services.  Our office would be happy to assist you!
Do you have questions?
Call today (214-692-1050) for a Free Consultation. 
Our office would be happy to discuss your options with you.
Checkups are Still Needed
Many patients think that after a new set of teeth they never have to go to the dentist again.  That is far from true.  When wearing dentures the gums will continue to change forever.  The gums tend to shrink leaving a gap between the denture and the gums.  This will cause looseness and could cause sore areas and difficulty eating.   Gum tissue  should be monitored by a dentist at least annually.
Typically, Dr. Miller would like to have a consultation with patients prior to the start of treatment.  This allows time for patients to share and ask questions. Dr. Miller will be happy to assist and help patients with all of their concerns as a general dentistry service.
Experience with Dentures
Dr. Miller has had experience working with patients since 1985.  He has helped patients with construction of new dentures to  achieve function and aesthetics.   A set of new dentures typically take several appointments to complete over a period of a few weeks.  Cost of dentures can vary from a few hundred dollars to several thousand depending on several factors.  A few of these factors include the dentists experience, time spent with patients during appointments, number of appointments required, materials used in construction of the new set of dentures.  Dr. Miller enjoys working with patients to help them achieve a set of new dentures that function properly and that are aesthetically pleasing.
If you are an existing denture wearer and they don't seem to look or fit as well as they did when they were first made, let us know.  Dr. Miller would be happy to help you decide if you are a candidate for a new set of dentures.
If you are happy with the esthetics of your smile or the fit, a reline may give you the fit you once had.
Call today!  214-692-1050
"With a Smile, We're Changing Lives"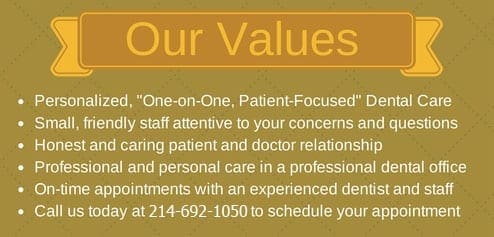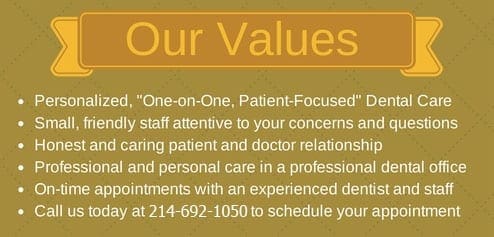 Dr. William H. Miller, D.M.D. has been practicing dentistry in Texas since 1985. For over 30 years, he has had a passion for personalized, quality care dentistry. He has been in the DFW area his entire career and is conveniently located on Walnut Hill Lane across from Presbyterian Hospital in North Dallas. His office offers a wide range of dental services that include crowns, bridges, implant services, dentures, root canals, fillings, cosmetic dentistry and other restorative procedures. [more]