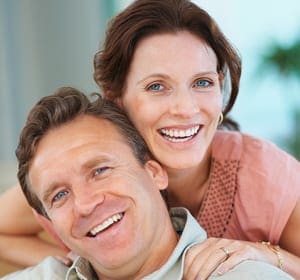 Porcelain crowns and bridges help many patients achieve the smile they have always desired. By using crowns and bridges a smile can be whitened and transformed into a beautiful long-lasting smile. Crowns and bridges can be used for strengthening a single tooth or replacing missing teeth within the mouth.
Materials can vary for crowns and bridges but for the best esthetics the material needs to be life-like similar to tooth enamel. Porcelain is used routinely for crowns and bridges. Porcelain is a "natural" substance.
The porcelain is applied upon a core material which can be metal or that of a ceramic "core" material. Most all core materials are a light color similar to that of natural tooth enamel. Therefore, materials used are the most natural looking substances to deliver the best in esthetics for that beautiful smile.
An unattractive smile can be transformed into one of beauty utilizing natural looking porcelain crowns and bridges. Tooth preparation would be involved and impressions made of the involved tooth or teeth within the patients smile zone. After just a few weeks, crowns and/or bridges are complete and placed permanently within the patients mouth.
"With a Smile, We're Changing Lives"
Dr. William H. Miller, D.M.D. has been practicing dentistry in Texas since 1985. For over 30 years, he has had a passion for personalized, quality care dentistry. He has been in the DFW area his entire career and is conveniently located on Walnut Hill Lane across from Presbyterian Hospital in North Dallas. His office offers a wide range of dental services that include crowns, bridges, implant services, dentures, root canals, fillings, cosmetic dentistry and other restorative procedures. [more]